---
Kansas City DUI / DWI Lawyer

"Science wins cases; the best criminal defense lawyers embrace the lab and classroom as zealously as they do the courtroom."Greg Watt, Kansas City DUI DWI Defense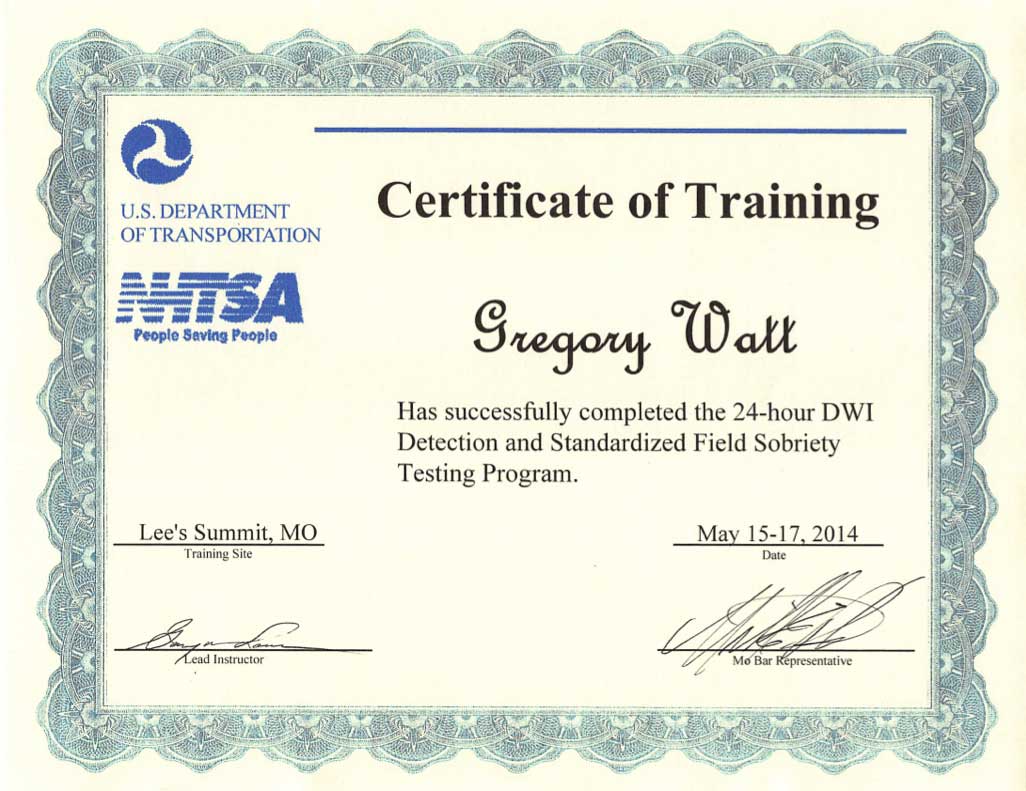 DUI / DWI Defense Information.
Greg Watt began his career working as a Prosecutor. During that time, Greg Watt received the finest training available in police practices and investigative techniques used routinely by detectives and patrol officers. Because of his background in law enforcement, hundreds of people a year call upon Greg to defend them in their time of need when charged with an alcohol related driving offense. Watt Law Firm – DUI DWI
In addition to law enforcement experience, Greg Watt is also well known for being a pioneer in the science behind DUI/DWI defense. Greg regularly attends the best DUI/DWI defense schools in the nation because he believes high caliber training is an important factor in successfully defending the toughest DUI/DWI cases that walk through his door. By training with national leaders in the field of DUI/DWI defense, Greg has become as comfortable in a lab as he is in a courtroom. And the lab work matters since the best defenses typically involve showing the Judge or Jury defects in the breath and/or blood testing.
Verifiable DUI/DWI Defense Success
Greg's track record for success proves science wins cases. So compare credentials; you won't find another lawyer in Kansas City with more comprehensive training in DUI/DWI defense. It's as simple as that. Contact Greg Watt
In short, Greg Watt has earned a stellar reputation in the arena of DUI/DWI defense because his success is verifiable. In fact, Greg Watt is the only lawyer in Kansas City with verifiable proficiency in the following ten areas:
Standard Field Sobriety Testing;
Breath Testing Analysis;
Gas Chromatography and its use in cases involving a blood sample;
DRE (Drug Recognition Expert) symptomology chart usage and the proper application of the 12 step evaluation taught by NHTSA/IACP;
Reasonable suspicion and probable cause determinations; (Learn more)
Non-Standardized Field Sobriety Testing;
Miranda rights; (Learn more)
ARIDE (Advanced Roadside Impairment Driver Enforcement Protocol);
Search and seizure protocol; and,
Retrograde extrapolation and BAC curve analysis.
Using advanced training, every case that comes through our door is scrutinized for a deviation in proper procedure. In addition, dash camera evidence is evaluated, witnesses are interviewed, and police reports are pored over with the attention your case deserves.
This approach provides clients with expert advice on defense strategy, so the client can make an informed decision on plea negotiations and beyond.
Remember if you are pulled over and questioned by an officer, never respond with defiance or aggression. The field is never the place to fight your DUI/DWI; the courtroom is far better suited to hear your challenges to the facts and law. Call a Kansas City defense lawyer who is ready to help you through this tough time — call The Watt Law Firm (913) 433-3849
---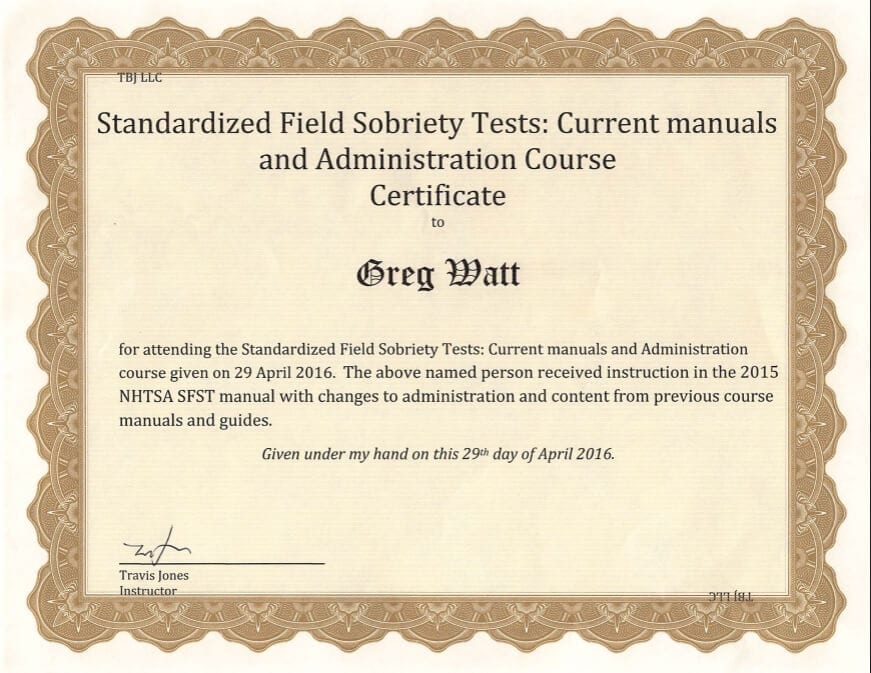 Three phases of DUI police contact.
Vehicle in motion. Officers are trained in this phase to make keen observations and gather relevant information concerning driver behavior. According to NHTSA research there are twenty DUI detection cues to look for.
Personal contact. This face-to-face interaction allows the officer to see, hear, and smell signs of impairment. If the officer needs more information to make an arrest, the face-to-face is followed up by an exit sequence. This exit sequence may trigger a pre-arrest screening where a battery of field tests are used to make a probable cause finding.
Pre-arrest screening. Depending on the first two phases, this phase will culminate in an arrest decision or the release of the suspect. Whether the suspect performs well on the standard field sobriety tests, or fails miserably; it's the officer's ultimate call in the field given the facts and circumstances available at the time.
Exceptional DUI defense results.
---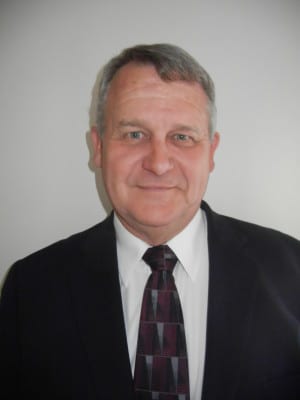 John Tarver
(214) 385-7287
Email John
6483 NE County Road 13003, Butler, MO 64730
Greg Watt relies heavily on toxicologist John Tarver to successfully defend his clients.
Greg Watt and toxicologist John Tarver are an excellent team to have by your side due to the fact that they both share a law enforcement background.
Put that background to work for you by calling The Watt Law Firm.
Drugs of Abuse
John Tarver has the experience that comes from running up to a thousand samples a day when he was working for the crime lab. During his time with the crime lab he was able to oversee accreditation by SAMSHA, CAP, ASCLAD, and CMS.
DWI and DUI
John Tarver is a seasoned expert and has provided court testimony for both the Prosecution and the Defense concerning the interpretation of DUI/DWI toxicology.
Seized Drugs
John Tarver oversaw SCLAD certification for seized drug testing for the ten years that he served as technical director for a regional crime lab. During that ten years the lab performed at least ten samples a day.
Medical Toxicology (Therapeutic Monitoring)
John was involved in therapeutic monitoring for 30 years of his career.
Court Testimony
John Tarver has built his career on expert opinions and credible court testimony. No one in Kansas City brings more experience to the table in the area of toxicology. Visit John Tarver at http://www.tarverforensictoxicologyconsultant.com/
Contact Greg Watt, Kansas City DUI DWI Lawyer for help now.